Hadeland Glassverk
Join us on a creative journey.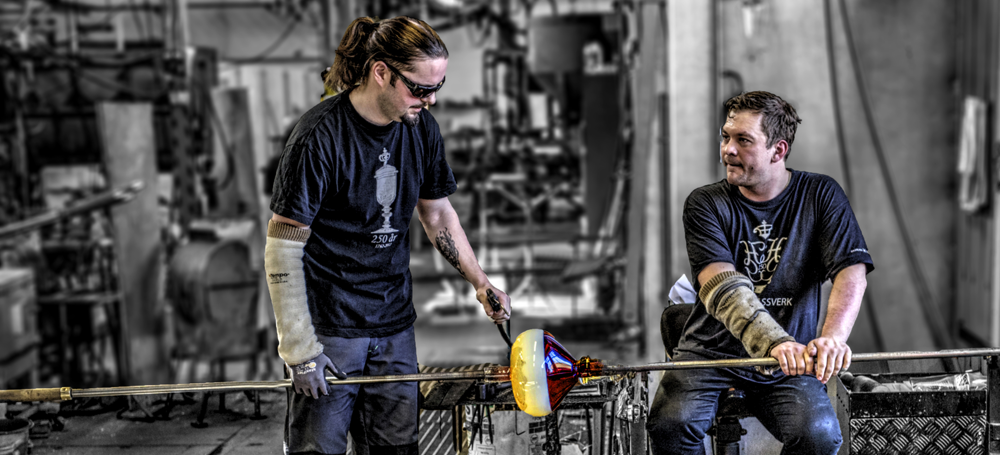 Hadeland Glassworks was founded in 1762 and is Norway's oldest industrial company with continuous operation. The production of glass at Hadeland Glassverk still takes place using the same methods as over 250 years ago. Watch glass being created, and try yourself as a glassblower yourself.
Glassblowing show with design of own barrel
At Hadeland Glassverk you can try your hand at a thousand-year-old profession. We will divide you into groups that will compete for the best design on glass dishes. We pick a winner and decide which keg will be made during the show. Norway's best glassblowers transform glowing glass mass into a large and beautiful art dish. A guide describes the process step by step. The artificial dish that is made belongs to the group. This can be used as a gift for someone who deserves extra attention, or perhaps you would like to raffle off the artwork during the evening's dinner?
Number: maximum 60 people
Duration: 1 ½ hours
Price: NOK NOK 200 per person (minimum price NOK 12,000)
Blow your own glass
Blow your own glass in Glasshytta. Will it be a drinking glass, flower vase or a honey jar? Once the glass has been blown, it must cool down in the oven for 1.5 hours before you can take the glass home with you.